Month View | List View | Download iCalendar
Mar
14
---
9:00 am – 10:45 am @ SpringHouse Ministry Center, 610 W. 28th Street, Minneapolis, MN 55408
Like many conflicts, it began with a wedding. Two men fell in love, committed their lives to one another, and decided to have a party with their friends and family. In the tradition of many who had come before, these two men wanted a wedding cake. When they attempted to buy a cake from a local bakery, the owner refused to provide the cake, saying that supporting a wedding between two men violated their religious beliefs. This situation—which became the Masterpiece Cakeshop case—is just one example of religious beliefs being used as a justification for unjust actions. The implications go far beyond cake.
The Religious Freedom Restoration Act, originally enacted to protect the freedom of Native Americans to use peyote in religious rituals, has been distorted and is now being used to maintain Christian supremacy. Similar so-called "religious freedom laws" have been passed at the state level and receive the hearty support of the current presidential administration.
How can we as progressive people of faith respond to protect our loved ones from discrimination based on another person's beliefs? What tools and knowledge do we need as clergy, caregivers, organizers, and defenders of human rights to work against the use of faith as a tool of discrimination?
Join interfaith Buddhist practitioner, pastoral counselor, and writer Pamela Ayo Yetunde for a rich conversation about our role as progressive people of faith in moments when religion is used in public as a shield for discrimination.
About the presenter: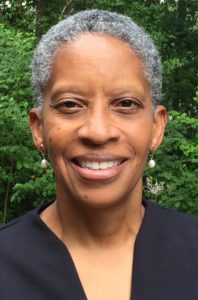 Pamela Ayo Yetunde is an interfaith Buddhist practitioner, pastoral counselor in private practice, and chaplain. She teaches pastoral and spiritual care and counseling and directs the Interreligious Chaplaincy program at United Theological Seminary of the Twin Cities. Her research and scholarship includes Buddhist psychology, Womanist Theology, and Black lesbian poet Audre Lorde as a spiritual and psychological resource. Ayo has also worked in spiritual care in hospital, hospice, and mental health care settings. Ayo received her law degree from Indiana University School of Law, Bloomington. She is the author of three books, including Vigil: Spiritual Reflections on Your Money and Sanity.
---