Kaleo Center Advisory Board
(listed alphabetically by first name)
Rev. Ashley Harness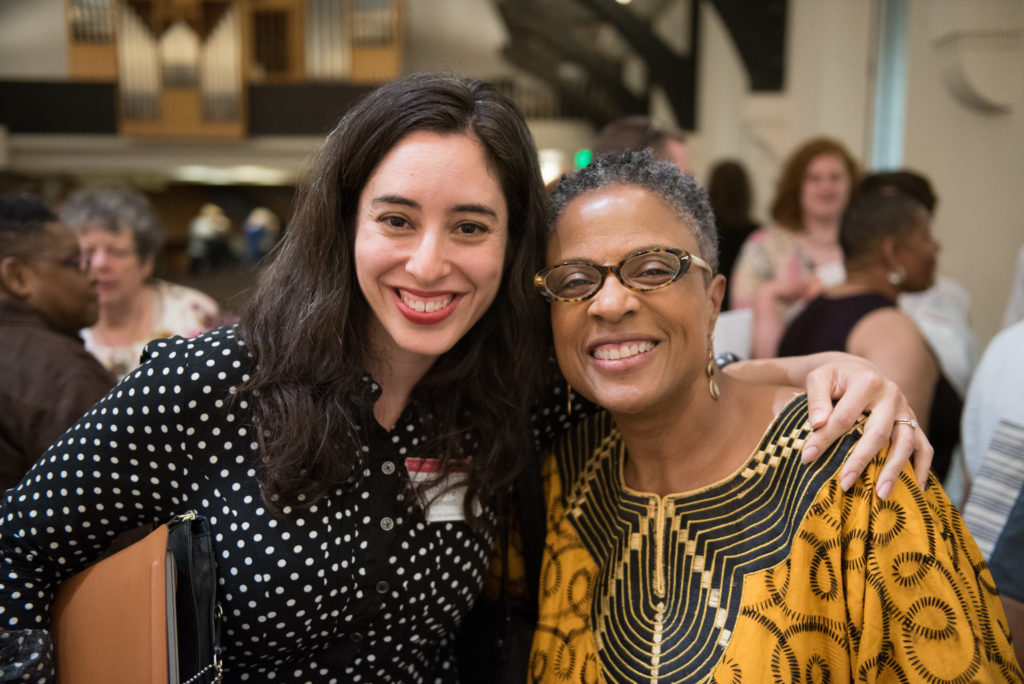 Rev. Ashley Harness is ordained in the United Church of Christ and is also a communications strategist with almost a decade of experience in non-profit media work. When she is not enjoying leading worship, standing for justice or listening deeply in pastoral care at Lyndale United Church of Christ, she is serving as Director of Communications at the Center for Progressive Renewal to help progressive churches across the country grow. She also consults through Auburn Theological Seminary's digital organizing and media teams, providing confidential training and counsel to religious leaders seeking to use social and traditional media as a pulpit. You can follow her writing on the Huffington Post and on her personal blog as well. Ashley received her Masters of Divinity at Union Theological Seminary in 2012 and her Bachelor of Arts at Brown University in 2005.
Photo: Rev. Ashley Harness (left) & Bishop Yvette Flunder, Night of a New Day 2018 speaker. Photo by Angela Jimenez Photography.
Beth Zemsky, Chair
Beth Zemsky MAEd, LICSW comes to her work out of her continued commitment to engage people in learning activities that move them to understand critical social and cultural issues. Building on best practice approaches, Beth specializes in intercultural organizational development with organizations working towards social change and structural transformation. Beth has 35 years of experience working as a consultant, community organizer, psychotherapist, educator, and organizational leader including serving as the principle of Zemsky and Associates Consulting, founding Director of the GLBT Programs Office at the University of Minnesota, and former co-chair of the Board of Directors of the National Gay & Lesbian Task Force. In 2000, Beth was awarded a Bush Leadership Fellowship to study organizational development of social change organizations, and in 2008 she was awarded Quorum's Lifetime Achievement Award for service to Minnesota's LGBT community.
Beth has specialized training in intercultural competency, organizational development, systems change, change management, leadership development, intercultural conflict, mediation, and assessment. In addition, Beth has been adjunct faculty at University of Missouri – St. Louis, Augsburg College, and University of Minnesota where she has taught courses in Gender & Sexuality Studies, Social Work, and Family Social Science. Beth is also an active member of Congregation Shir Tikvah, a progressive Jewish congregation in the Twin Cities. Learn more about Beth by listening to her podcast The Beth Zemsky Podcast.
Photo: Beth Zemsky (right) with her partner Chris at Night of a New Day 2018. Photo by Angela Jimenez Photography.
Rev. DeWayne L. Davis
Rev. DeWayne L. Davis is the Senior Pastor of All God's Children Metropolitan Community Church in Minneapolis, MN. DeWayne previously served as the Domestic Policy Analyst in The Episcopal Church's Office of Government Relations where he represented before the U.S. Congress and the Executive Office of the President the domestic social policies established by the Episcopal Church's General Convention and Executive Council. He currently serves on the MCC Moderator's Public Policy Team and was a participant in MCC's inaugural class of the Leadership Mentoring Retreat. He holds a B.A. in Economics and Philosophy from Howard University and an M.A. in Government and Politics from the University of Maryland at College Park. DeWayne received his Master of Divinity (M.Div.) degree with honors from the Wesley Theological Seminary in Washington, D.C., where he also served on the Steering Committee for the Lewis Center for Church Leadership at Wesley. He was also the recipient of the Maryland Bible Institute's Excellence in Biblical Preaching Award in 2012. He lives in Minneapolis, MN with his spouse, Kareem.
Photo: DeWayne Davis at Night of a New Day 2018. Photo by Angela Jimenez Photography.
Kit Briem
Kit Briem brings to the table more than 25 years of experience in nonprofit fundraising, having raised more than $10.2 million from individuals so far in her career. She has worked in the Twin Cities' social services, arts and philanthropic arena since 1999 and holds an MA in Arts Administration and an MBA in Marketing from the University of Wisconsin-Madison. She is currently Vice President of Advancement at The Family Partnership.
Rev. Neil Elliott
Neil Elliott is a New Testament scholar, writer, editor, and Episcopal priest. Neil's  recent publications address how we hear the Bible in political and ideological contexts today, from debates over economics and the future of capitalism to climate change. A former associate professor in theology, he is currently Senior Acquiring Editor at Fortress Press, and continues to teach courses in biblical studies as an adjunct instructor at the undergraduate and M.Div. levels. An ordained Episcopal priest, Neil preaches and presides when he can.
Other Board Members
Bios coming soon
Arif Mamdani
Rev. Emily Goldthwaite Fries
Rev. Grant Stevensen
Rev. Jim Bear Jacobs (Mohican)