Wednesday, November 14, 2018 | 9-10:45 AM | SpringHouse Ministry Center (610 W. 28th St., Mpls)
Sometimes, we all need someone to listen – someone who can hold deep presence with us, who can witness our pain and our joy and our complexity, and who can help us remember our connection to ourselves and to the world.
When you ask someone to think about chaplains they usually have an image of a clergy person coming to the bedside of a hospital patient, or visiting prisons. While making visits and offering comfort are part of the work of chaplaincy, the work and offering of chaplaincy goes far beyond institutional settings and platitudes. Chaplaincy means a trained and intentional practice of being-with, of helping someone to hold their humanity in difficult times, without judgement or expectation.
Come to the next KaleoExpress with Rev. Karen Hutt to explore what radical chaplaincy might look like in social movements and in the work of justice and how it connects to the broader work of healing and healing justice. We'll talk, reflect, and listen together, and we'll learn more about how trained chaplains and practices of chaplaincy can support all of us in finding spaces of refuge and care. Out hope is that you will leave this workshop feeling a little more nourished, and a little more held as we each make out way through our work and our loves.
Registration is free and all are welcome. Bagels, treats, coffee and good company at 8:30a.m. Workshop begins at 9:00a.m.
About the presenter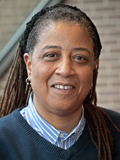 Rev. Karen Hutt has trained generations of students in radical chaplaincy both inside and beyond institutions. She comes to this work with years of experience in movements for social justice at the national level, as well as locally in the Twin Cities. A minister in the Unitarian Universalist faith, Rev. Hutt moves through the world with a joyful sense of humor, a sharp analysis of systemic conditions, and a profound regard for all beings. Rev. Hutt currently serves as the Vice President of Student Formation, Vocation, and Experience at United Theological Seminary, and is a Board Certified Chaplain and Clinical Pastoral Educator with the Association of Clinical Pastoral Education.